Vitamin C is an important, water-soluble, vitamin that has demonstrated support for many parts of the immune system. In fact, the most common reason people take vitamin C is to support their immune system. Vitamin C helps support good immune function by encouraging the production of white blood cells – known as phagocytes and lymphocytes – which can help protect the body against viral invaders.
Powerful antioxidant

Boosts essential immune support

Packed with high potency Vitamin C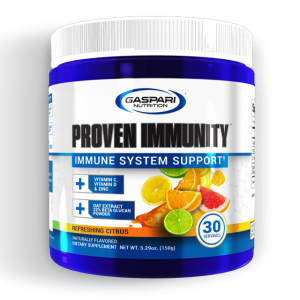 Gaspari's Proven Immunity™ contains Beta-Glucan, a polysaccharide that may offer a number of health benefits; including maintaining healthy cholesterol levels, supporting healthy blood sugar levels, and overall immune system support. Proven Immunity™ also contains Vitamin C, Vitamin D, and Zinc which have been known to possess immune-enhancing properties and help play synergistic roles in supporting components of our immune systems by fortifying the epithelial barriers, cellular defense, and antibodies which constitute the three main lines of defense for our immune systems. All that and it comes in a deliciously refreshing easy to mix Citrus flavored powder.
Helps Support A Healthy Immune System


Supports Healthy Blood Sugar Levels


Assists In Maintaining Healthy Cholesterol Levels