The Rise of the Monday Mercenary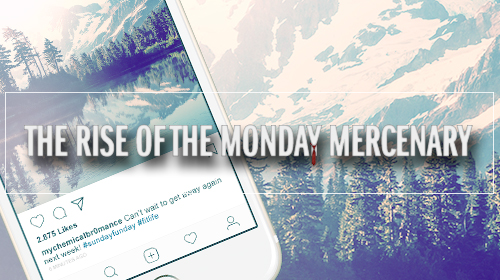 In 2016, Americans spent an average of 34.8 minutes a night preparing, cooking, and cleaning up after a meal according to the US Bureau of Labor Statistics. Quite unsurprisingly, this decrease in time at home has coincided with a new, overwhelming onslaught of products positioned for immediate consumption. This isn't just a flash-in-the-pan phenomenon or a coincidence, though. Per additional research data from the US Bureau of Labor Statistics, as of September 2017, the unemployment rate in the United States has fallen to an impressive 4.1% as of October 2017, a number not seen since February 2001. It seems as if the American public has finally begun to recover from reeling unemployment rates proceeding the economic crash of 2008 (by October 2009, the unemployment rate in the United States had climbed to 10%).
As unemployment rates fall, the success of the health industry rises. In the previous decade, Health & Fitness was considered a niche category. The past few years, however, have borne witness to an astounding influx in popularity for this category. According to online statistics aggregator Statista, revenue from the global health club industry exceeded $83B USD in 2016, up almost $16B from 2009. This growth in interest in the Health & Fitness category helped spawn the Weekend Warrior, an individual—typically a tech-savvy young professional who exercises their thumbs more than any other part of their body—dedicated to photographically documenting the fitness-oriented activities he or she conducts on their spare time, such as a two-day hiking trip or a 9 a.m. Saturday Pilates class.
As Weekend Warriors have grown accustomed to a more active lifestyle in recent years, it seems they have begun to incorporate trickles of these habits into their work week, giving rise to a new sort of consumer: the Monday Mercenary. The Monday Mercenary is much more than a Weekend Warrior in a Windsor knot, however. He or she is typically college educated, chained to a desk for upwards of 40 hours a week, and absolutely spent by 2 p.m. on Monday afternoon. Already worn out by a Sunday spent climbing a mountain, the Monday Mercenary is greeted the following morning by a less exciting mountain of paperwork. The Monday Mercenary, however, attempts to maintain their healthy lifestyle through the consumption of fitness friendly ready-to-drink elixirs, be they energy drinks or protein shakes. The Monday Mercenary pays close attention to what they put in their bodies, favoring more holistic ingredients.
Given general trends in the Sports Nutrition marketplace as of late, vendors are very aware of the Monday Mercenary, targeting more casual audiences rather than the usual athletes or bodybuilders. Traditional energy drink and soft drink consumers are now offered lower calorie drinks that ease up on the tablespoons full of sugar typical of many more well-known energy drinks. These healthier concoctions are designed to pep up professionals who have hit a wall after their lunch break, providing some added health benefits such as weight loss or laser focus in the meantime. This is an incredibly smart move for vendors seeing as how Nielsen reported in 2013 that busy young mothers actually consume more energy drinks than either young post-grads or independent Millennials.
Brick and mortar and specialty retailers should pay particular attention to this movement. Products designed for immediate consumption (i.e. RTD's, protein bars/cookies/snacks, etc.) possess a much wider market potential than just active individuals. For instance, young professionals skipping lunch will more than likely opt for a meal replacement shake or bar at some point throughout the workday to compensate. Targeting this consumer—the sort-of health-conscious professional who does not wish to deal with the hassle of powders—will no doubt push more unique traffic through your doors. From here on in, retailers should consider the American workday as much an endurance sport as a night on the gridiron.
****
written by Héctor González | Marketing Specialist, Muscle Foods USA
Take a look at our On-the-Go catalog for a glimpse at our array of RTD's, bars, cookies, sticks, and more!
Need to place an order? Login now!