Healthy Ramen Noodles to Build Muscle
I remember when my father would visit me in college, he'd always show up with a block of Munster cheese and two huge packs of ramen noodles. The man knew his way into his own son's heart. As a college rugby player, I somehow managed to make gains in both strength and speed just off of this simple diet of cheese, noodles, and whiskey. Unfortunately, we don't get to stay 19 forever, and our bodies sure let us know that whenever the chance presents itself. Now, five years out of college, though it's nice that my income has been incrementally rising with each year of experience, I can't say that my metabolism has followed suit. Now that I can afford to eat much more wholesome foods, time has become the issue. Face it, like me, most of you are probably away from your homes from early morning 'til the late evening. I'm gone for practically twelve hours a day, just to get home after a grueling bout with back and bi's around 8 p.m. No part of me feels like cooking on the weeknights. Luckily, I've got my secret weapon: Healthy Ramen Noodles. The kicker is, much like a good gumbo, this healthy ramen actually tastes better the longer it sits in your fridge (note: do try to eat all of it within a four-to-five day window). This particular healthy ramen recipe is a mixture of several different recipes as well as me using whatever was left in the cupboard to make something truly delicious. That being said, I'm no chef and I'm not a nutritionist. I'm just a guy with a 9-5 and a love for cooking so, please, if you are considering any drastic change in nutrition or exercise, consult your physician first.

I first made this dish last autumn when I was following a Paleo meal plan. What sets this ramen apart from those salty blonde blocks of goodness I devoured in college, first and foremost, are the noodles themselves. The noodles featured in this particular recipe are shirataki noodles, which, rather than coming from a grain like typical pastas, are derived from konjac flour, also known as konjac glucomannan (KGM). These noodles provide a virtually carb-less (the little carbs they do contain are dietary fiber) noodle substitute in our healthy ramen. Konjac also provides numerous health benefits, such as lowering cholesterol, promoting skin health, and even weight loss! Now, listen, when you open the packet of noodles to drain it, DON'T be put off by the smell. Just rinse and dump and walk away—you'll be okay, kid.
This healthy ramen recipe is intended to be made on a day when you have not much else going on. I work weekdays, so I prepare this healthy ramen on Sundays while running back and forth between the kitchen and football in the living room. It's the only cardio I'll do on Sundays, quite honestly. Most of the time spent physically cooking comes near the end, so this is a good recipe to sit back and not fuss too much over. Making your own bone broth takes the longest amount of time. Usually the store-bought stuff is super salty, but if you don't have the time, by all means just save yourself the four-to-six hours and pick up a few jars if your budget can swing it. Also, this healthy ramen recipe is incredibly high in healthy fats mostly coming from the unrefined coconut oil, and the added MCT oil. Yes, I know coconut oil is already a great source of MCT's, but I like to kick that up a notch for the sake of satiety. I personally use the Quest Nutrition MCT Oil powder, as it's no-frills and affordable.
The high fat content helps keep you full and focused after your lunch break, so you may very well head to the gym after work without having to train on a full stomach. From personal experience, I find that training either fasted or at least three hours after your last meal leads to a better training session. It just does—you're lighter on your feet, you're burning up whatever's stored versus whatever you've fed yourself, and the post-workout meal feels just that much more rewarding. I can write a series of books on all of that, though, so we'll save that argument for another day.
Last note: this healthy ramen might be seen as a bit of a sodium bomb, due to the salt from the liquid aminos and fish sauce. Thanks to the comprehensive, low-sodium, vegan, paleo, and non-GMO jars of magic courtesy of the good folks over at Oh My Spice!, I was able to cut the salt down in other areas of the healthy ramen recipe without having to skimp on any of the flavor! Please feel free to tweak this recipe where you see fit to suit your personal needs. One batch of this stuff gets me through an entire work week and then some. Cheers!
CAVEMAN RAMEN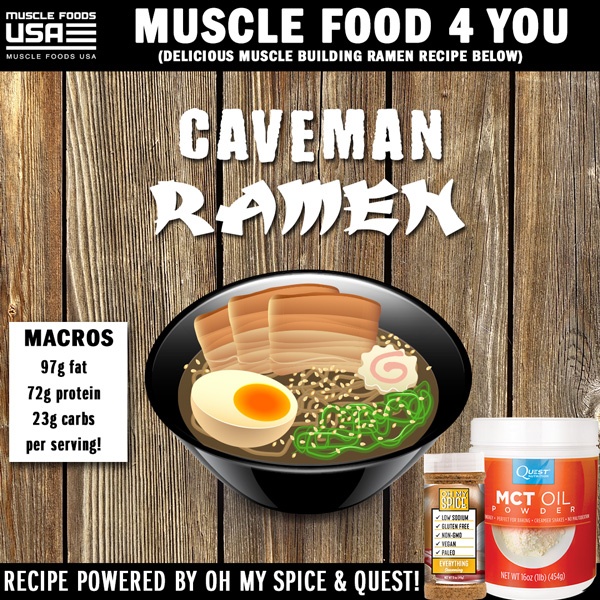 WHAT YOU'LL NEED
• More than a few dashes of Oh My Spice! Everything & Maui Onion flavors
• 1 Tbsp, Organic Extra Virgin Unrefined Coconut Oil
• 0.50 cup(s), Raw Organic Unfiltered Apple Cider Vinegar
• 2 scoop(s), MCT Oil powder (or 2tbsp of liquid MCT oil)
• 1.50 oz (180ml), Dry Rice Wine
• 3 sheets roasted Seaweed
• 2 Tbsp, Red Boat Fish Sauce
• 1 tbsp, Kosher Roasted Sesame Oil – 100% Pure
• 4 packs (7 oz ea.) shirataki noodles
• 32 oz, Raw chicken wings
• 48 oz, Pork spareribs, separable lean and fat, raw
• 8 ounce, Scallions
• 1 cup, Garlic, raw
• 0.50 cup(s), Ginger
• 2 tsp, ground white pepper
• 1 tbsp, ground black pepper
• 2 tsp(s), chili powder
• 1 lime
• 1 cup, sesame seeds, roasted
• 2 tbsp(s), Liquid Aminos
• Soft Boiled Egg for garnish (optional)
• 1 head, cilantro (optional)
• 2 carrots, peeled & julienned (optional)
• 1 pack, shiitake mushrooms (optional)
WHAT YOU'LL DO
First, fill up a big pot with water—a pot big enough for you to be able to dump 6lbs of meat in and boil for a few hours. Now that you've got your pot, throw the wings and spareribs in there. Clean off whatever fat you'd like to first, but I prefer to just go all in. All right, now set your timer for four hours and walk away. Go clean your house or something. *Note: if you have the time, make this bone broth the night before and let it sit in your fridge overnight. If you wake up to find basically a layer of gelatin congealing over the top of your broth, you done good, kid. The more time the broth sits, the better, but I understand that we all have lives here.
After the four hours, your meat should have all fallen off of the bones. Separate the sparerib meat from everything else and put it to the side. Chuck the chicken, bones, and fat into the garbage can (or repurpose as you see fit). You should have an almost dirt-colored broth now—that's your base. I like to throw in two sheets of seaweed and the fish sauce here and let that boil for about five minutes to make what I consider a crackpot American dashi. After that minute, go ahead and add in the liquid aminos, vinegar, Oh My Spice!, MCT Oil, sesame oil, garlic, ginger, pepper, scallions, and sesame seeds. Let that all party on medium-high heat for about another hour.
Towards the end of that hour, grab a cast iron skillet and throw the coconut oil and spareribs in there. Add some extra Oh My Spice and sesame seeds for good measure and get the tips of the spareribs nice and crispy. Again, cook to your liking but I prefer to really fry these suckers. From there, dump all of the contents from the cast iron skillet (oil and burnt bits included) into your broth and let that simmer for another 35 minutes or so.
After all of these flavors have simmered and swirled, rip open the four packs of noodles, drain, and rinse. Add the noodles to the broth and stir. This is where I rip up my last sheet of seaweed and throw it in there, along with the juice of 1 lime, and, if it doesn't taste like soap to you, a whole head of cilantro. Adding in these bright flavors at the end will help cut through the rich savoriness of the broth for a more balanced dish. Let the broth simmer about another 10 minutes.Soft boil an egg while you're waiting if you'd like, halve it, and set it aside.
Now, grab a bowl and enjoy. Set the rest aside and you've got a good, warm, filling lunch for the entire work week. There's also a lot more you can throw in there: mushrooms (I like using meaty shiitake mushrooms), carrots, more scallions—do what you see fit and find delicious. This healthy ramen recipe is a guideline, not a declaration. That's how you should approach all things health and wellness, honestly: just do what works for you. Enjoy, Muscle Foodies!
***
written by Héctor González | Marketing Specialist, Muscle Foods USA
Take a look at our Specialty catalog for a glimpse at our array of products intended for specialty diets, from vegans, to keto, to paleo, and more!
Need to place an order? Login now!